Why Us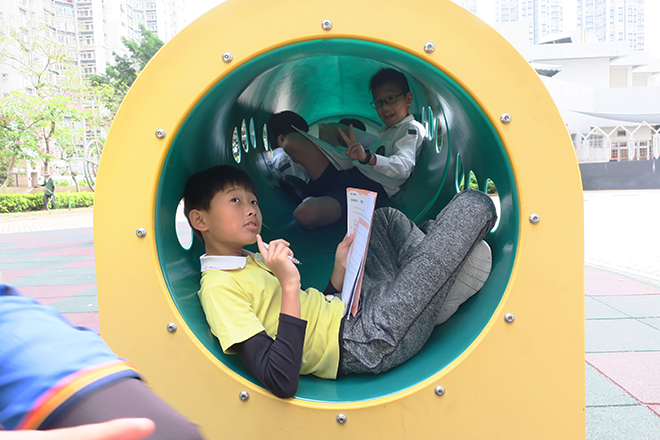 Gigamind is a bilingual Christian school. It adopts the global education philosophy and concerns about the needs of the local students at the same time. Our School Supervisor, Dr. Betty Chan, as well as the School Sponsoring Body, have been operating schools in different cultural backgrounds for decades.
English Immersion Environment
Gigamind has an English immersion learning environment. English is our learning and teaching language, working language and also playing language.
We use English as the medium of instruction and in all communication contexts, except for Chinese lessons which are carried out in Putonghua. Our school-based curricula of English and Chinese reference the curriculum characteristics of Australia and China respectively.
Student-Centered Curriculum
The school adopts a student-centered and school based curriculum which aims at coping with students' needs and promoting their abilities and interests to the fullest. Our English and Chinese curricula are completely school based and tailor-made for our students. It follows the framework suggested by the Hong Kong Curriculum Development Council, so it is well-connected to different types of secondary schools.
We believe that each student is unique and every child has their own talent, developing students' multiple intelligence is our concern.
Small Class-Small School
In a small school like ours, small classes and close relationships among teachers and students are our advantages which benefit learning. Generally, there are not more than 20 students in one class, allowing the Activity Approach to be adopted.
We fully optimize the benefits of a small school and small classes. Students have more opportunities to participate in all activities. Hence, we can focus on students' learning, as well as developing their multiple intelligence.
Assessment for Learning
We promote students' abilities for life-long learning. Comprehensive on-going formative assessments and descriptive reports are used throughout the six years. Assessments and the related report system in Gigamind are not for ranking or grading students but for improving learning.
Students Prospective
After completing schooling at Gigamind, our students can enter local secondary schools through the system of Secondary School Place Allocation. They are also well- prepared for the Direct Subsidy Scheme schools, international schools or overseas colleges. In the past years, over 95% of our graduates entered different types of secondary schools using English as the Medium of Instruction.
Feeder School
Gigamind is a feeder school of Yew Chung International School–Secondary (YCIS) in Hong Kong. The feeder school arrangement basically enables Gigamind's Primary 6 graduating cohorts to have direct access to YCIS.