Alumni Thoughts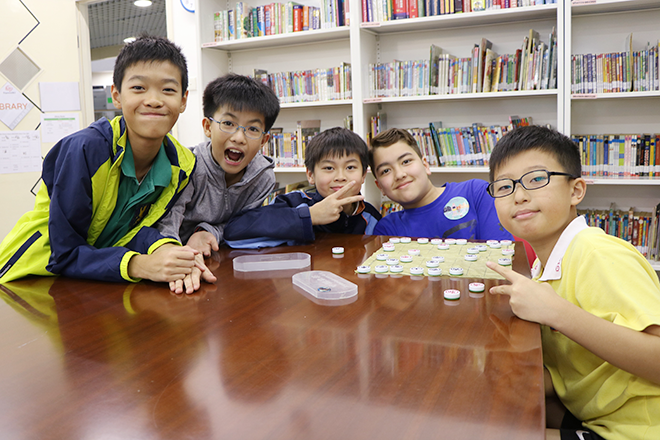 Jaden Lau
Middle School:
Highland Middle School, Washington
Graduated year:
2018-2019
Hello, my name is Vincent Jaden Lau, a former graduate of Gigamind. This is my alumni writing.
 My feeling towards Gigamind school life is being very happy and optimistic, some days could be more boring than others, but still most of the time I was happy. I would play basketball with my friends every 1st recess, then for 2nd recess I would play "catch" with them.
  I've learnt a lot of things at Gigamind, very important things that I'll never forget. I liked how we had homeroom.  Where we didn't have to move anywhere compared to my secondary school now, where we need to go to our classes instead. I also liked the teachers back in Gigamind, I'll never forget their teachings!
  What I miss the most is the learning environment, I've found it interesting because everything was taught in such a fun and interesting way of learning. Something else I miss is playing basketball and "catch" in the recesses.
  My most memorable moments were probably the Graduation Ceremony and the Graduation Dinner because who would forget those precious memories? I loved being the emcee for both of those events, because of how it feels to present performances and different things. It feels great to be helping the school.
  And at last, the differences between Gigamind and my secondary school now. The learning is more complicated as you would expect, since it's a secondary school. And as I mentioned earlier, we need to walk to our classes. Instead of staying in homerooms, we walk to our certain classes.
 That was my alumni writing, thank you to whoever read it. If you're a 6th grader at Gigamind and you're stressed, struggling or worrying and you're reading this, one thing I can say to you guys is the secret to some of our successes is that we never, never give up. So please don't give up!
James Wong
Graduated year:
2018-2019
Secondary School: 
NT Heung Yee Kuk Yuen Long District Secondary School
I feel very proud to study in Gigamind. I have a lot of great friends and teacher right there. The things I like about Gigamind is how friendly and kind the people are, and the students is always being so positive. I miss the environment of Gigamind. It is always been very familiar. The most memorable moment in Gigamind is the Graduation Camp. We have been sleeping, playing and eating with each other throughout the camp.
I also love playing basketball with my friends during ECA and recess. There is such a big difference between my secondary school and primary school, including the size and the amounts of people, but my soul never change because I am always a Gigamind student.
Jocelyn Yuen
Graduated year:
2013-2014
Secondary School:
Heep Yunn School
Almost graduating from secondary school myself, I often look back with gratitude at the people and places that shaped me into the person I have become. I was blessed with an interest in spoken and written English, which has benefited me in all these years. Proficiency and a firm foundation in English is always important, especially this era when globalisation is manifold. Looking back at my roots, Gigamind gave me many opportunities to practice english and to participate in various events. The school always encourages students to try out new things and broaden their horizons. For example, teachers urged me to join speech festivals, in which they trained me well and I managed to clinch quite a few prizes in my primary school days. It developed my confidence in speaking to the public, which paved the road to me getting the champion in the Heep Yunn School's Public Speaking competition recently, which is quite a well-acclaimed contest.
Apart from academic affairs, the school gave me opportunities to engage in sports. I was a member of the Badminton and Swimming team, and I pride myself in receiving two interschool Badminton Girls Singles competitions alongside Team prizes. The school has a flexible schedule as it allowed time for me to balance my different interests. Now, I have become the team Captain in Heep Yunn school, and fought with my team members to clinch 15 Championships in these 5 years.
 Gigamind is a flexible and caring environment for children to grow— it provides small-scale teaching and encourages all-rounded development. With a light homework burden, students are encouraged to participate in other activities. It does not focus solely on students that excel, it focuses on all students regardless of their abilities. I am certainly grateful for all Gigamind has given me in the past.
Lucille Ngai
Graduated year:
2017-2018
Secondary School:
Yew Chung International School
My feeling towards Gigamind school life is that Gigamind school life was (compared to other schools) a lot less restrictive and less strict. Our uniform was basically a t-shirt, teachers are really chill about TSA exams, and school starts at 9.
What I liked about Gigamind is that since the school is so small, everyone knows each other, making it a really close community. Gigamind recognizes the importance of each student's well-being instead of just their grades, so that students are less stressed and happier.
I miss waking up at 8:50 and then running to school. I miss wearing jeans and trainers every day. I miss Mr. Craig's dinosaurs/superheroes/aliens lessons. Most importantly I miss my classmates. I miss having lunch with them and throwing paper balls at them. Oh and also the teachers.
The most memorable moments were the last day of school. The whole day was a huge party. Our classroom was a mess, drinks and food everywhere. Tables and chairs randomly arranged, when all of a sudden, a squishy sailed past my head, hitting a classmate.
Marco Cheung
Graduated year:
2018-2019
Secondary School:
Yew Chung International School
Gigamind is a good school, I've studied for 9 years in Gigamind and I've learnt a lot. It is different from traditional schools where you have to do your homework for 2 hours daily. In my opinion, a primary student shouldn't have that much homework so that they can have more sleep and focus better in class.
What I miss the most about Gigamind after I've graduated were mostly the teachers in the school. They are very nice and they won't ignore you if you've got a question you want to ask them. I also miss my classmates though I always meet up with them whenever possible.
The most memorable moment in my primary life was the graduation ceremony, and I'm not talking about the songs we have to sing. I'm talking about the buffet we get after the ceremony and the feeling of pride after graduating.
Now that I'm studying in a secondary school, I noticed that on the first few days of secondary school, people were not as friendly as the people in Gigamind were. But after another few days, I met a lot of friends and it was amazing. The different topics we had to learn were starting to get complicated and rushed, and I got used to it. The other thing I noticed about Gigamind after I graduated into secondary was that the students in Gigamind were a lot shorter that my classmates, I wonder why.
As a conclusion, Gigamind is a great school and creates very intelligent and hardworking students like myself.
Rachel Tsang
Graduated year:
2012-2013
Secondary school :
HKFYG Lee Shau Kee College
University : Cityu, Politic
My Primary school life was unforgettable and in fact, those days are the happiest days in my life. As an Alumni, I proudly feel that I cherished every moment. Thanks to Gigamind, an internationalized school that provides interactive teaching with an excellent social environment for me to meet friends from diversified ethnicities.
It foreshadows my future study with passion and curiosity. Thanks to GGM, I am now a fervent learner! I am sure that you will be one too!
Selina Ng
Gradated year:
2011-2012
Secondary School:
Christian Alliance SC Chan Memorial College
Universuty:
The University of Hong Kong
(Speech and Hearing Sciences)
I had 6 fruitful years in Gigamind.
In the 6 years in Gigamind, I could stretch my potentials in arts and language in a supportive atmosphere where active learning and attempting are encouraged by motivative teachers.
Not only is this place a platform to learn, but also a haven to experiment with ways to develop rapport relationships. Composing of students from diverse cultural backgrounds, Gigamind trains students to develop communion, respect and mutual support, which are all life-long commendable traits of a future leader.
Studying in an English setting was initially difficult for me as a local student. Yet, teachers adopted interactive learning and engaged students with English related activities like presentations and acting, which were very intriguing for me. Besides, we were encouraged to speak English outside lesson time. With support from our teachers and peers, English naturally became a part of my life, and, is still a very important part of my life (especially of my learning) now!
Looking back, the 6 years I have had was definitely one of the merciful events in my life!
Aiden Chow
Graduated year:
2018-2019
Secondary school:
Yew Chung International School
Hello, I am Aiden from 6B, graduated in 2018-2019. It is my honour to share with you my six years of studies in Gigamind.
Being in Gigamind was just like my family, I have met many good teachers and classmates who cared about my studies and feelings.
I also like Gigamind as it has small class size. The teachers could concentrate on every one of us and they were always there for us when we had questions and needed help.
What I miss the most is the Sports Day every year especially the cheering team. We got to cheer up our housemates on the podium and everyone was very energetic and cheerful. It was very excited to watch our teammates having competitions on the field too.
Gigamind is a school that encourages students to speak English frequently. I am glad to spend my 6 years of primary school life here and my English has improved a lot. I become a more confident person in facing the new challenges in my secondary school life.