Co-curricular Activities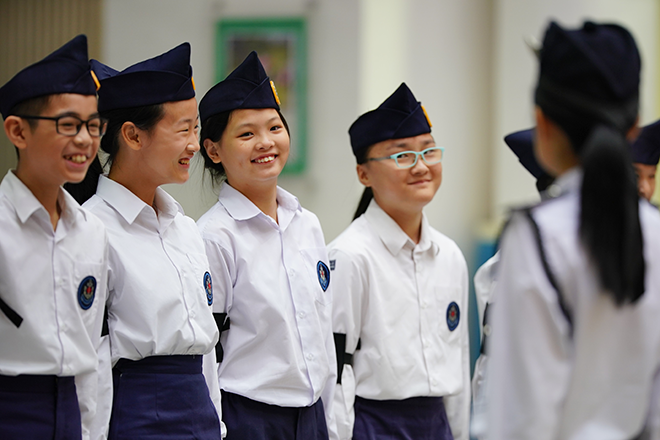 With an aim to ensure our students' whole-person development, the school strived to foster their innate passion for learning, while encouraging them to explore their interests through a wide range of extra-curricular activities. The school organized different activities in areas of music, sport, visual art and team building, etc. for students to select their favorite courses to participate.  These activities not only benefit their physical and mental health, but also instill in them the virtues of perseverance and self-discipline.
"Weekly ECA"
"Weekly ECA" is arranged on weekly basis and falls on school's normal class schedule. Students learn to make independent decisions from choosing their activity for the ECA period. Student can manage their time and organize their own task to be finished.
Uniform group
Students learn to be disciplined and socialized by participating in the Boys' Brigade activities. Including weekly meeting, day camp, outdoor activities and overseas exchange tour.
School teams
Athletic team, Badminton team, Table Tennis team, Dancing team, Violin Team, Choral Speaking team, etc.
Interest classes
Students enrolls different after-school class for their own interest. Including Gymnastic class, Dancing class, Table tennis class, Badminton class, Chinese painting, STEM and Lego, Abacus, Scratch program, Rope skipping class and Speech training program,etc.
End of term activity week
Some external companies or organizations will come to our school to hold different talks and activities for our students. Besides, a variety of games and activities will be arranged by subject teachers and the ECA Committee.
Subject and Summer Excursions
Excursion will be held in different subject occasionally and related to the learning topics. Gigamind encourage students to learn beyond classroom provide many chances for students to explore. Besides, a various choice of excursion will be provided during summer holiday.
Graduation Activities
Graduation Camp, Graduation Ceremonies and Graduation Dinner will be held every year. P.6 students takes part in the performance. Throughout various team-building activities, students learn how to cooperate and prepare for their next stage.